Pre-owned home sales rose seven percent in Dallas in June, which is the largest year-over-year growth so far in 2014. The first five months of year were fairly stagnant, with little growth in the housing market.
But Dallas real estate agents shattered sales records in June. 9,481 homes were sold in June, which according to North Texas Real Estate Information Systems is the largest single monthly sales total ever. Not only did they set a record for the number of homes sold, but the median price of those homes rose 10 percent, to $199,000, also a record.
This surge in the real estate market is not a surprise for many agents, and in fact some feel its overdue. But selling homes so far this year has been somewhat difficult because the inventory is actually down from 2013. It only takes 44 days on average to sell a house in the Dallas area, which is a record for more than two-dozen counties, but finding homes for sale is a bit difficult.
Buyers are easy to find in this market, and the rise in price does not seem to dissuade them from pursuing a home because the interest rates are still very reasonable. Many people anticipate that the prices will continue to rise in 2014, and agents hope to see an influx of new homes for sale in the market as soon as possible.
If you are looking for a new home in the Dallas area, let your local moving company make your move in process as stress-free as possible. Once you find where you are moving, All My Sons can help you get there.
Source: http://www.dallasnews.com/business/residential-real-estate/20140708-june-heats-up-with-record-north-texas-home-sales-prices.ece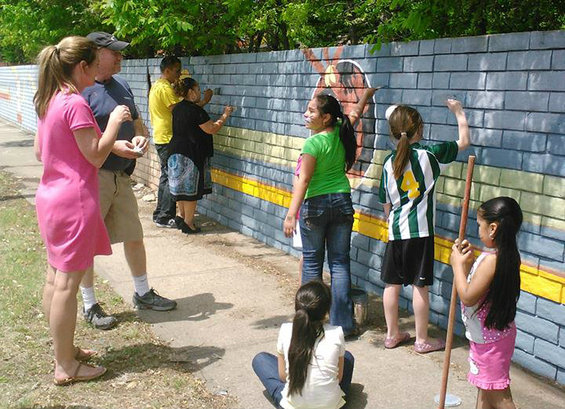 Since the mid 1970′s one of North Dallas's most iconic features has been a half mile long mural that runs along a wall on Forest lane. The mural was originally painted by WT White students in an effort to deter graffiti. There have been many projects to retouch the wall in the years since, and you can most likely find at least one person working on it most nights.
However, some people are ready to move on and rid the North Dallas neighborhood of the wall. Dallas homeowners Brent Herling and Danny Scott have broken out in a heated debate over property rights. Herling has been spearheading the touch-up efforts of late, while Scott hopes to see the mural disappear. Scott claims that part of the wall backs up to his house and is his property, while Herling claims that the wall is neighborhood/city property and it is up to them to decide whose property it is. Scott also says the mural is an "eyesore" which "detracts from the value of our neighborhood."
The debate has moved in to Dallas City Hall where officials are discussing the future of the mural. In the meantime the two sides remain at odds with each other, with more residents in North Dallas weighing in on the issue every day.
Should the mural stay? Who's claim of property rights is correct?
Source: http://www.dallasnews.com/news/community-news/park-cities/headlines/20140606-tiff-over-forest-lane-mural-is-a-3-block-long-story.ece
Your Dallas local movers participated in last month's Heroes for Children 2012 Dallas 5k last month, and had just as much fun as we did during last year's event. Heroes for Children is an incredible organization which provides much more than a helping hand to families battling childhood cancer. Childhood cancer takes its toll on more than the child. It is a heartbreaking experience for the entire family. Heroes for Children makes it possible for families to focus on the child by providing much needed financial assistance. On top of running the 5k, your Dallas professional movers were happy to make a donation to the Heroes for Children cause. It is a heartwarming feeling to be a part of such a worthy cause. Your Dallas relocation service providers are glad to be involved.
Well the NBA draft is now over, and your Dallas moving professionals can't wait to see how the Dallas Mavericks' new draft picks will perform alongside of all-stars Dirk Nowitzki and Jason Terry. The Mavs picked up guard Jared Cuningham, center Bernard James, and forward Jae Crowder. Owner, Mark Cuban and Coach, Rick Carlisle are pleased with the draft picks. Your Dallas movers are excited for the 2012-2013 NBA season to begin this fall to watch these players in a Mavs uniform. Who knows maybe an NBA championship is in reach with these new additions.
Your Dallas local relocation specialists here are excited for many moves to come following the much-needed makeover being given to Ross Avenue in Downtown. Upgrades to the previously less-than-beautiful area has been revitalized with new luxury townhomes and lofts, handsome architecture and park installations, and also a vibrantly renovated "Gateway to the Arts District." Residences in the Ross Avenue neck of the woods previously donned unsightly barred-windows and run-down bars. The new look will definitely attract many to find a new home in Dallas' Downtown area. I have a feeling that your Dallas relocation specialists will be seeing a lot of the new Ross Avenue.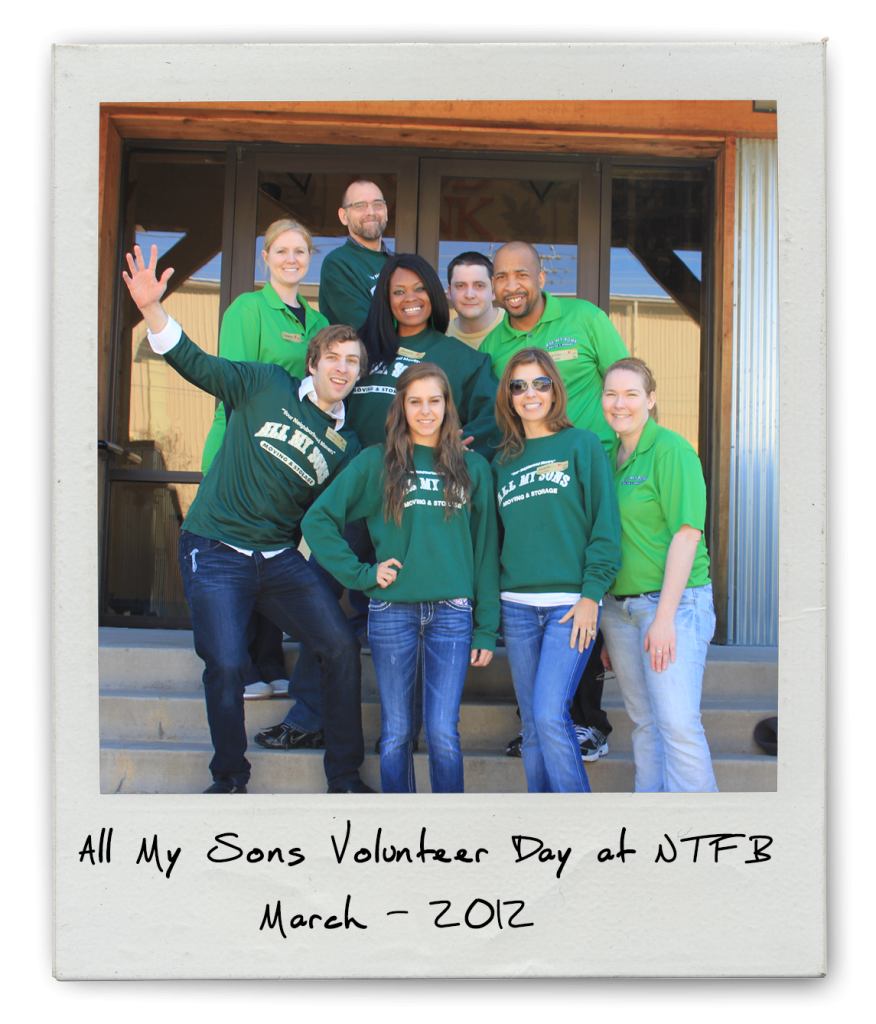 Working together as a team is one of the most important aspects of a well orchestrated moving crew. Our movers exhibit excellent teamwork on a daily basis, and so do our in-office staff! Every day our moving crews rely on the teamwork of our dispatch representatives, who rely on our experienced relocation consultants to diagnose the best moving solutions for all of our customers. Teamwork is a natural part of our tight-knit moving family. Recently, your Dallas movers' in-office staff sent a crew out to the North Texas Food Bank to volunteer. We had a lot of fun packing and moving boxes of canned goods and other foods for donation. With the exception of loading a moving truck in the hot Texas sun, your Dallas movers' in-office staff got to experience what it's like to perform labor in the All My Sons uniform like our moving crews! We had a lot of fun, and won't soon forget how much we appreciate working in an air conditioned environment!
North Texas Food Bank relies on able-bodied volunteers to feed hungry families-in-need-of-a-helping-hand. Your movers in Dallas had a lot of fun working together in the NTFB warehouse, and we're sure you will as well. Working with a great bunch of friendly volunteers all helping to fight a worthy cause, the positivity is contagious!
Your relocation specialists can't wait for our next visit to the North Texas Food Bank. If you feel the urge to volunteer too, we encourage you to consider NTFB.
[tube]http://www.youtube.com/watch?v=pmgp8Bw9024[/tube]
Local Roanoke man, Kenneth Robinson, demonstrably taught all of Dallas a lesson recently, but not the lesson he was intending if you ask your professional movers here. Through a little loophole known as 'adverse possession,' Kenneth was able to move in to a three hundred thousand dollar Flower Mound house for only sixteen dollars! Achieving local fame from his incredible story, Robinson frequently gave motivational speeches to law students and even managed the aptly titled "16dollarhouse.com" website in efforts to inspire others who might want to follow in his footsteps. Well don't start jumping on the sixteen-dollar-house bandwagon just yet, as your Dallas residential mover learned today that Mr. Robinson's dream home was foreclosed upon last month by its lien-holder, Bank of America. Your relocation team here at All My Sons Moving & Storage thinks Robinson's motivational speeches might incorporate an 'if-it-seems-too-good-to-be-true' theme very soon!
Some rather enthusiastic talk among Cowboys fans has caught the attention of your local Dallas movers, and we are surely not alone in taking interest. As a form of protest against, we may soon see loyal fans moving into a tent village to "Occupy Valley Ranch" until Jerry Jones fires himself. Die-hard Cowboys fans needn't question the motives behind the Occupy Valley Ranch movement; simply put, there is very little faith in Jerry Jones' ability to get the Cowboys to the Super Bowl, and fans are apparently willing to infest his front lawn until he moves himself out of the Dallas Cowboys picture! Your Dallas relocation service providers are intrigued, Occupy Valley Ranch becoming a reality would surely be one for the history books; however, today Cowboys fans are likely taking a break from Anti-Jerry-Jones campaigning to enjoy the Cotton Bowl at Cowboys Stadium!
According to respondent's self-ratings, Dallas was ranked the second most humble city in the nation by Living Social, a startup company that offers daily deals and discounts. Your Dallas moving professionals agree with the results, claiming that Dallas is one of the most dutiful cities in the United States. Joining Texas in the five most humble cities are: Cleveland, Detroit, Denver and Minneapolis-St. Paul. The vainest cities however, are: Miami, Chicago, Atlanta, Philadelphia and Phoenix. Should you choose to reside in Texas, your Dallas moving professionals will have a slice of humble pie waiting for you!

On an ordinary day, The All My Sons of Dallas truck would be filled with boxes and furniture, but today their trucks are filled with Turkeys! Your Dallas professional movers delivered over 100 turkeys and trimmings to local shelters; feeding well over 1,000 people. Remember, Thanksgiving isn't just about a day off work or delicious food; it's about being Thankful for what you have and nothing makes you more thankful then helping those who go without. Needless to say, your Dallas professional movers are a little more thankful this year. Happy Thanksgiving Dallas!